HOW TO ORGANIZE AN INDUSTRIAL MOVING?
Moving Downtown brings you global solutions to ensure your development. From dismantling to reassembly, without forgetting the putting back into service of your production lines, we carry out your industrial move as well as your redevelopment. Essential to optimize your needs and your production about your new location.
WHY CALL ON A MOVING INDUSTRIAL PROFESSIONAL?
Successful industrial transfer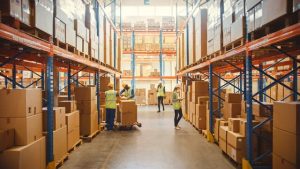 Movement without the drawbacks. Our mission begins with the signing of the specifications and does not end until the products leave the newly installed production line.
A complete service, accompanied by the guarantee of respect for machine performance, production quality, and deadlines.
Our experience for moving service Canada allows us to work without geographical constraints, and whether it is one or several thousand kilometers, we remain just as efficient and efficient.
Finally, our strength is to be referenced in large industrial sites. Our long distance moving in Canada allows you to respond more quickly to each operation's needs linked to your industrial transfer.
ENGINEERING, QUEBEC KNOW-HOW
Heavy by definition, industrial engineering can yet be easy to manage. Transformation, automation, or refurbishment, the work tool's improvement is carried out all the better as we limit the intermediaries. For all the data and constraints of production, product flow, location, connection, or development, you benefit from a single point of contact.
MAINTENANCE MANAGEMENT
Suppose we first conceive it in a preventive way. In that case, we intervene, of course, on-site, in areas as specialized as mechanics, hydraulics, pneumatics, assembly, electricity, automation, adjustment on line, locksmithing, mechanical welding, piping-boiler making, etc.
In addition to taking care of your industrial move, the overhaul of machines, production, or packaging lines can also be carried out in our workshops.
Offers dedicated to professionals according to the constraints of their industrial activity
Because the industrial sector covers many areas of specialization, the best moving company in Canada adapts its services for a personalized industrial move. Agrifood, automotive, chemicals, energy, pharmaceuticals, plastics… Logistics are in line with your professional specificities. In this desire for optimization, we deploy means commensurate with your units and production spaces:
management of furniture and computer equipment with repair in your new premises;
special handling: movement of production equipment by crane or industrial transfer with exceptional convoy;
supervision and securing of heavy handling operations: loading, stowage;
disconnection and reinstallation of connectors, cabling, and piping at your sites;
reconfiguration of the premises according to your needs and requirements: dynamic storage system, congestion capacity of various industrial equipment, secure circulation area for staff, etc.
Also, there is rigorous logistics coordination to plan, manage and implement all the stages related to your industrial transfer. Among our multiservice offers, this includes audit trails and optimization of the costs generated by your move, as well as an absence of subcontractors for respected contractual commitments. We ensure the continuity of your activity to avoid any break in the production chain.
Would you like to learn more about our services dedicated to companies and industrial sectors? Discover our offers online and contact us. Free and without obligation, your quote allows you to better understand the costs of your industrial move.
INDUSTRIAL RELOCATION PROJECT MANAGEMENT
The transferor dismantling of a machine, a workshop, a factory, or even several sites simultaneously is a major strategic shift that you must prepare in advance. This guarantees the sustainability of the industrial tool and the profitability of the production unit.
Moving Downtown in the industrial transfer have many years of expertise and experiences of projects around the world.
Our added value lies in our organizational capacity and our technical knowledge of your production tools. This complete control guarantees you the (re) start-up and proper functioning of your equipment. For commercial moving, we undertake in its transfer operations to deliver the following services to you:
100% turnkey with full management
100% adaptable planning thanks to our possibilities of operating in 3×8
100% materials integrated into our offers
100% multidisciplinary teams
100% post-transfer support with our industrial maintenance contracts
Expertise
Strong skills
security
Quality
Quality approach
Material resources
Appropriate material resources
INDUSTRIAL TRANSFER IN THE PHARMACEUTICAL SECTOR
In a particularly demanding sector such as the Pharmaceuticals sector, our teams apply strict procedures. Beyond the dismantling, transport, and reassembly of production lines, we operate in environments controlled to the most important ISO classes.
We work with production and upstream laboratory departments to analyze each step of the transfer. Each material used is adapted to guarantee compliance with the hygiene standards imposed by the sector. These are standards that apply in sectors such as cosmetics, food processing, and research.
YOUR SPECIALIST IN PROFESSIONAL INDUSTRIAL TRANSFER
A business move is an important step in the life of a business manager. It represents at the same time a new beginning for its activity but is also a source of stress and requires a great organization. To do this, you must call on professional movers in Canada, such as Moving Downtown, who will be able to advise and support you at each stage of your industrial transfer.
We are experienced in industrial transport, in the event of a change of head office, business takeover, freight convoys, or new furniture delivery. Industrial moving often involves transporting heavy and fragile loads and is handled with finesse and rigor by our moving experts.
Finally, our seriousness and discretion make our reputation, and we proceed to the signing of a confidentiality agreement upstream of your industrial transfer.
IT SITE RELOCATION
The industrial transfer is a sensible move, which requires careful and discreet handling (signing of a confidentiality agreement) of your business assets. Apart from the transport of furniture and merchandise, the transfer of your IT site is a delicate point that must be taken care of by qualified professionals.
This intervention requires meticulous preparation upstream: backing up your data, disconnecting your IT equipment, installation, and connection plan on the arrival site, connecting your IT machines.
In the context of a change of head office or a relocation of part of your company, Moving Downtown, industrial transfer professionals, take care of the transfer of your IT equipment, in complete safety and vouch for the protection of your devices and your installations, from taking charge to reinstallation on-site, following the plan defined upstream.
Our team is made up of moving specialists for individuals, communities, and businesses. We provide our professional customers with all our skills and our seriousness in the context of industrial transfer over short or long distance moving in Canada.