PACKAGING SERVICE & MOVING
Moving | Packing and Unpacking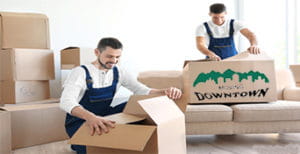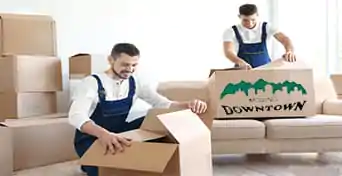 Planning to move soon and need an efficient and professional packaging service? Are you looking for packagers in Montreal?
Our company offers a complete and qualitative packaging service in Montreal, Longueuil, Laval, North Shore and South Shore. When it comes to packing and unpacking it is best to trust professionals to reduce the difficult work of a move and increase the security of your goods during handling and transportation.
We know how to pack all of the customer's belongings so that they are at the final destination in the same initial condition. Our efficient packaging services represent in the foreground a saving of your money, maximum protection of your goods and total satisfaction.
Moving Downtown Montreal, according to your preferences and budget, can offer a moving service with total or partial packing and unpacking of your accommodation, apartment, condo, house, chalet … or an impeccable turnkey moving service.
Our moving company will provide you with free wardrobe boxes for the day of your move to facilitate the removal of your personal clothes.
We offer the best packing service at an affordable price in the moving area of the greater Montreal area. Our company provides you with a qualified and efficient team that will carefully pack and move the goods so that at the destination of your stay they arrive intact. Our professional packers are qualified to use the right packing methods and special packing materials to properly pack and protect items during transportation.
The packing service is the process for a successful move
We offer the best packing and moving service in the moving industry. Look no further, choose our packaging specialists who know the right methods to protect your belongings throughout your trip. The main priority of packing with us is that our packaging specialists work as movers as well who know how to do their work without any damage.
Packing with Pro
Thanks to our vast experience in the packing and moving service, our packing team can offer the best packing and handling techniques that are developed during the training given and years of work in the field of moving and long distance transport.
Packaging requirements
The packaging methods and materials used are the key to a smooth move.
Our packaging specialists can safely pack and unpack your precious items like art objects, chandeliers, glasses, plates, bottles, paintings, furniture, television, clothing.
Objects that are too fragile will be individually wrapped with corresponding packaging materials. For crystal and porcelain, the packaging will be more delicate in a specific way of protecting goods. The lamps and lampshades are wrapped with bubble wrap ensuring maximum protection throughout the move.
Mirrors and pictures can be packed with moving blankets or even safer with telescopic boxes.
The plates are wrapped in wrapping paper; each plate is separated from the others by sheets of paper. The plates are placed on several levels to fill the cardboard box.
The upholstered furniture is in the prime plan wrapped with protective plastic rolls. Then they are covered in padded moving blankets for extra protection.
The packaging techniques are carried out before the objects are loaded into the truck and they will be removed after unloading in the new house.
We have all the necessary packaging materials to carry out quality packaging as well as: boxes of all sizes, bubble wrap, shrink film, scotch tape, reinforced tape, marker, wardrobe boxes.
Choice of packaging services
To meet your packaging needs we offer a list of individual and practical packaging services:
Entire packing service. Have your own truck.
Entire packing and moving service.
Packing service, unpacking plus the entire moving service.
Unpacking service
Our unpacking service covers the entire region of Montreal, Laval, Longueuil, South Shore and North Shore. The move takes a lot of physical work and at the end of a move you feel exhausted from unpacking. Although, with the help of our professional teams, you can relax and admire your new home while they unpack boxes, crates and your personal items.
Each customer who arrives at their new home is impatient to place the items in their places and many of them choose the unpacking service included with the moving service so that they can enjoy the new atmosphere of life faster.
Discounts
get the move cheaper