WHICH MOVING SERVICE IN CANADA IS THE BEST CHOICE
Our moving service in Canada for individuals allows you to be accompanied throughout your project. Please find out how our service works for a successful move.
Step 1: Your moving quote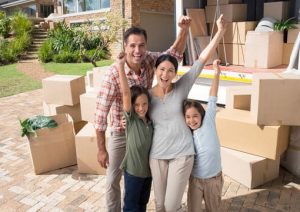 Request your free quote online and first get an estimate of your moving price for our three formulas: distance of moving, date of your move, and the number of movers you need. We have exclusive discounts for seniors and students, as well as an online moving estimate. Moving Downtown also gives a 5-10 % discount for students and seniors. For each step, our prices are versatile and adaptable. You will thus be able to have a very accurate idea of the final price of your move and be called back by one of our advisers to obtain a firm price within 24 hours .
The role of our Customer Service is to:
define with precision your volume to be moved through a list of furniture for long distance moving in Canada,
validate with you the accesses to your departure and arrival accommodation, as well as the particularities (number of floors, presence of an elevator or not, vehicle parking, …),
choose, with you, the formula that suits you according to your wishes and constraints,
listening to your specific needs to optimize your budget as well as possible.
Good to know :
Your quote can be refined with the list of furniture to have a precise vision of the volume to be moved,
variable time depending on the period of activity, emergency, and last-minute moving services is also available.
You have a privileged relationship with your advisor and can reach him on his direct line whenever you wish.
Step 2: Planning your move
Once you have validated your moving quote with your moving consultant, you will then be referred to our Planning department. A dedicated employee will then take over to finalize the organization of your move until D-Day and offer you the best moving company in Canada.
The role of our Planning Department is to:
definitively validate all the elements seen with your advisor,
find a team of movers on the ideal date according to your availability,
reserve parking spaces with the town hall of your future city,
support you in your markdowns and answer your practical questions.
Good to know :
You have the direct line and e-mail address of your advisor in the Planning department of movers in Canada to answer all your questions before and during your move.
Your deposit check is only cashed once the final date has been agreed together or, at the latest, the day of dispatch of your moving boxes.
Step 3: Preparing for your move
Once all the elements have been validated with our teams, you can start preparing your move with confidence. To facilitate your organization, our moving services include:
We provide cleaning services before and after moving,
moving boxes delivered free of charge to your home within 24 hours,
an automatic address change tool in your Customer Area,
contact details for your team of movers if you want to reach them before Moving Day.
Step 4: Carrying out your move
The day before your move, do not hesitate to call the mover to find out the exact time of his arrival at your home. On the day of the move, the team leader will introduce himself and have you sign the consignment note to certify that the move has been properly organized. He will walk you around your home and explain the organization of your move in detail.
Even if you have opted for an all-inclusive move, your presence is essential, both during loading and delivery.
When unloading by the movers, please take advantage of the fact that the movers bring your things one by one to your accommodation to unpack them and check that there are no scratches or breakage. It would help if you carried out this inventory in the presence of the mover.
When everything is verified, you can sign the consignment note to free up the team of movers and start settling in.
Good to know :
Reservations or breakage reports must be entered on the consignment note at the end of your move so that they can be taken into account by insurance companies. No reservations on the consignment note = no insurance coverage!
Tip or not? It's really up to you! Tips are appreciated if the service provided has been appreciated, just like a simple coffee or sandwich to maintain a relaxed atmosphere.
Step 5: After the move
Therefore, your feedback is essential to continuously improve our moving service and offer you the best services. At the end of your move, we send you a Satisfaction survey to collect your feedback, positive or negative. By taking 2 minutes to respond to us, you participate in the continuous improvement of our moving offers.
In the event of a possible loss, our after-sales service is available to assist you and compensate you for the damage suffered, in conjunction with our insurers.
Insurance is Your Guarantee
The Moving Downtown team takes all the necessary measures to avoid damaging the areas of your departure home as well as your new home, by using:
Protective mats for boards;
Clean covers to protect furniture;
Covers for mattresses and sofas.
You can also use our packing service to make sure your goods are fully protected for transport.
The insurance certificate is given during your move which will protect the goods throughout the transport. The insurance covers:
2 million civil liability
1 million for freighters
 Contact us for more information
The criteria that can affect the cost of the move are as follows:
The date of the move;
The moving distance;
The volume of work and the number of movers;
The presence of an elevator and the floor.
For more information about the moving price in Canada please contact us or use a quick quote.