Welcome to the website of Moving Downtown company, which offers a quality long distance moving Montreal-Shawinigan and to all regions of Canada, mainly in Ontario, New Brunswick, Nova Scotia and Quebec
Moving Montreal-Shawinigan - Best Long Distance Movers Nr1
Are you looking for moving from Montreal to Shawinigan? Moving Downtown can help you move.
Moving to Shawinigan from Montreal
Moving Montreal-Shawinigan Company
Our company offers an excellent moving service from Shawinigan at the best rates! We have thousands of happy customers, why shouldn't you be one of them?
MOVING MONTREAL-SHAWINIGAN
Moving Shawinigan – Moving from Montreal to Shawinigan by yourself could cost you more than the cost of hiring a professional removal company to handle this.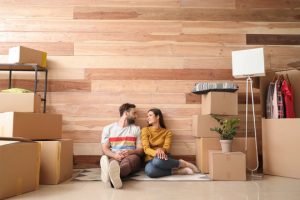 Renting trucks, paying for the gas, purchasing packing materials and straps, and loading and unloading which could pose risks to your health and damages to your home appliances and furniture All of this can be avoided by contacting professionals who can handle your task from A to Z.
With Moving Shawinigan Downtown, you do not have to take on the process of moving on your own. Our experienced movers will put in every effort to ensure that the Montreal to Shawinigan relocation experience is trouble and stress-free.
We are there to help you even if you are moving to such cities as Becancour, Nicolet, Louisville, Saint-Tite, Saint-Alexis-des-Monts, Yamachiche, Saint-Gabriel, and other towns, municipalities and cities near Shawinigan.
History
Old flags from 1951 to 2002
Missionaries heading for The Upper Saint-Maurice would rest here. Prior to the time that Shawinigan Falls was established, the local economy was heavily based on timber and agriculture.
Boomtown
Shawinigan Falls between 1903-1920
Shawinigan Falls between 1903-1920
In the latter part of 1890, Shawinigan Falls drew the attention of foreign businessmen such as John Joyce and John Edward Aldred of the Shawinigan Water & Power Company (SW&P) as well as Hubert Biermans of the Belgo Canadian Pulp & Paper Company due to its unique geographical location. Its falls were able to be a suitable location to produce hydroelectricity.
It was in 1899 that the SW&P hired Montreal engineers Pringle and Son to design an outline of a grid to build a new town along the banks of the Saint-Maurice River, providing the base for the future Downtown Shawinigan.
In 1901, the area was established into the village Municipality of Shawinigan Falls and gained town (ville) status one year later in 1902. The hydroelectric power plant helped to spur rapid economic growth and the town scored a few milestones in Canadian history. These included the beginning producing aluminum (1901) and carborundum (1908) Cellophane pellets (1932). [1][1010 Shawinigan Falls also became one of the first Canadian cities to be equipped with street lighting that was electric.
Residential Moving Montreal-Shawinigan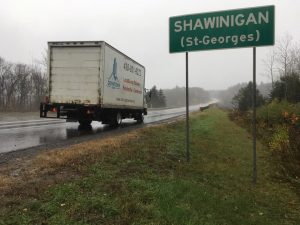 Are you planning on moving your apartment out of Montreal in Shawinigan or maybe shifting your home to Shawinigan towards Montreal?
Our company is staffed by only experienced and reliable moving companies. They are experts who be careful when packing your belongings and safely transport them. Our experts in household relocation have a goal of bringing positive feelings to our clients when they move. They are reliable and professional residential movers who will take your possessions as if it was their own.
If you're in need to relocate a piano from Montreal and Shawinigan Our Montreal piano mover can assist as well. They are movers who specialize in moving heavy objects and can also transport any type of safe, transport all pool tables between cities as well as aquariums and huge tool boxes, etc.
Commercial Moving Montreal-Shawinigan
Whatever the nature of commercial moving from Montreal and Shawinigan We are able to guarantee you a complete turnkey service, which includes the dismantling of office furniture and packing, handling heavy office and commercial equipment, furniture assembly and secure transport.
Our corporate services include, but aren't only limited to:
any cargo that is transported any cargo transport Shawinigan and Montreal
Pallet shipping
Moving commercial heavy equipment
office move office relocation Montreal and Shawinigan
small deliveries…
We Montreal and Shawinigan commercial moving company is most qualified experts to handle every ordinary and unique move using the best expertise and best methods to ensure that your commercial relocation can be done with tranquility.
Gazebo Assembly in Montreal, South Shore and North Shore
To enjoy your backyard to the fullest in the summer months but not being constantly exposed to sunrays that may be unpleasant including sunburns and skin cancer, it's essential to create shaded areas. But eating food under trees with bugs and leaves dropping onto your plates isn't the ideal way to eat. This is the reason why many would like to build an outdoor gazebo.
But putting up a structure like this isn't a simple task. Perhaps, Moving Downtown offers you a specially designed service for gazebo construction within Montreal, South Shore and North Shore.
Moving Shawinigan – Assembly of All Gazebo Models
The term "gazebo" is a generic one "gazebo", there are various structures that are somewhat different from one another.
Traditional gazebos are built of a steel structure that is covered with canvas. The canvas is typically wide enough to allow for aeration however it is shielded from sun. The specialists of our gazebo service that is specialized for construction within Montreal, South Shore and North Shore can easily assemble the structure made of metal and then add to the canvas to let you take in the fresh air of the summer without being oppressed with the sun.
The traditional gazebo may be referred to by two different names. We'll discuss"shelter" or "shelter" if the structure is movable, meaning it is possible to remove it during winter, for instance but we'll call it's an "pavilion" when the metallic structure isn't movable. The pavilion needs to be secured throughout winter. Our experts will handle the gazebo construction located in Montreal, South Shore and North Shore, no matter whether the structure is temporary or permanent.
Cargo insurance is your
Guarantee
Because we want your peace of mind above all, we also prepare all the essential files to ensure the transport of your personal effects.The Downtown Moving Montreal-Shawinigan team takes all the necessary measures to avoid damaging things of your departure home as well as your new home, by using:
Protective mats for boards;
Clean covers to protect furniture;
Covers for mattresses and sofas.
You can also use our packing service to make sure your goods are fully protected for transport.
The insurance certificate is given during your move which will protect the goods throughout the transport. The insurance covers:
2 million civil liability
1 million for freighters
For more information about the moving price from Montreal to Shawinigan please contact us or use a quick quote.
Discounts
get the move cheaper