If you want that your move to be done without any problem and damage then you have to contact a specialized moving company.
Moving Downtown has a great work experience and qualified employees who will make your move at an affordable price.
In order to help you in the residential move, we offer unique services in Montreal:
Moving Services
Packing options: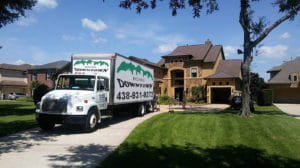 Full-Service Packing – We do all packing work of your belongings for you.
Fragile-Packing – We pack only difficult or fragile items to your discretion.
Self-Packing: you can pack your things yourself, if you are not sure how to do it right, you can call us and we will advise you on the packing features.
Basic options:
Loading & unloading
  our trained movers will carry out works carefully, also at your request, we can load items in a certain order for the convenience of placing them in rooms.
Delivery
We work out a optimal itinerary for each carriage, because the relocation can be for a relatively short distance or has a route made through the whole city.
Additional options:
Disassembly & Assembly
Some furniture requires disassembling before moving, especially large-size furniture – cabinets, sofas, kitchens, built-in furniture, etc.
Do not worry about protecting your belongings during the move, our experienced movers have carefully thought out every detail for you and will carry out all work on the move professionally and quickly.
Local Residential Relocation
If you relocate to a new place (home / apartment) for distance of approximately 50 km from your first address so you move locally, and transfer rates are normal. That means that our residential and local moving company will charge you per hour of work.
In general, it will not be important on which task related to the move. The movers will work (packaging, assembly, loading …), the duration of the total time dedicated to the work of relocation will determine the final cost. But the time of moving depends on several factors: 1) The size of your home and the number of items to move. 2) The distance from the truck parking and the place of the stock. 3) The number of handlers. 5) Additional services needed; 6)The moving distance between the two locations.
Residential moving price
The price-quality ratio of the moving service is an important factor for every customer, and we know it.
Particularly
for a local move the average price for a mover with a truck is about $ 55 per hour.
     The time required to move a studio for two movers is approximately 2 to 3 hours (travel time is not included) and approximate cost is 240 to 315 dollars (without taxes);
    For two movers, the time required to move a house  with two bedrooms  is approximately 3 to 5 hours (travel time is not included) and the approximate cost is $ 320 to $ 480 (no taxes);
    To relocate a house with 3 bedrooms the time required for two movers is approximately 5 to 7 hours (travel time is not included) and approximate cost is 480 to 640 dollars (without taxes);
     To moving a house with 4 bedrooms, the time required is approximately 6 to 8 hours (travel time is not included)  for two movers, and the approximate cost is $ 560 to $ 720 (without taxes);
Of course, the cost of moving depends on your demands towards the works you need to be done by movers (for example to assemble the furniture, packing, etc.)
    It should be kept in mind that moving prices here are average reference values, but to have a precise estimate, please refer to the online quote.