Economical Moving Company - Downtown Moving
Cheap Moving Company
Affordable Moving Company, Downtown
Are you looking for the price of cheap Montreal movers for your move preparation and at the same time for quality service? The cheap moving service requires organizing and planning work in advance to make your economic move a success. The human temptation is very great to save money and find cheaper movers and cheap moving company. But, how to move easy at an affordable price without having a hassle? Is it possible to make a quick and economical move without big expenses and at a low cost? You will get there with a good moving strategy. Best price moving services in Montreal with different service options, such as moving, storage, transportation, etc., including the low rate moving service provided by the company Moving Downtown. Pay Less to Move. Moving Downtown is the company that has a vast experience in apartment or house removals, office relocation, furniture removals, business relocation, such as restaurant equipment moving, piano moving service, pool tables or snookers, transportation of commercial goods, etc.
Pay Less to Move. Moving in a less crowded period
Particularly in Quebec, the most crowded period of moving is the month of June. In this period, the rates for moving and the costs of movers are higher, but the peak is July 1 when the hourly rate for moving is extremely expensive. Paying more in this period is not only for movers, but also for a rental of the truck and moving tools. So, it's best not to move in the moving season period from May 20 until July 10. Moving at the end of the week and at the end of each month is more expensive because you will pay double hourly rate for the movers. Reserve the date of your move in advance during a working day of the week and you will benefit from a low moving price. By filling out our online estimate form, you will benefit from our 10% discount for a cheap move. We have students and seniors discounts as well.
Prepare and pack your goods yourself
The key to a successful cheap move is the advance preparation of the goods to be moved. Although you can do it yourself or otherwise, at your request, our team of cheap movers can do all the economic moving work: assembling your furniture, dismantling furniture, packing and unpacking, moving, load the truck, unload, protect the furniture, package, unpack the mirrors, glass tables, fragile objects, disassemble and reassemble the furniture, transport and place things…
Your participation and cooperation
The participation of customers in the moving process can lower the moving price. Even packing personal belongings and household goods is a good opportunity to clean up. You can buy wrapping paper or use newspapers, bubble wrap, boxes, wardrobe boxes, TV boxes… to protect fragile objects. Dispose of all unnecessary things by throwing them in the trash, or sell them on the internet, social media, it's a good idea to carry only what is necessary. Put the boxes closer to the exit door and facilitate good access to your goods. If necessary, reserve a parking lot closer to the exit door of the building for the truck and also book the elevator in advance. Do not wait for the moving day to do that, so you reduce the time and the move will be cheap.
Low cost residential moving
Moving Downtown provides you with easy-moving offers at a low price for local and long-distance moves. Contact us for more information about the price for Montreal local moving service, long distance moves, storage services, warehousing, pool table and pianos moving service, assembling and disassembling furniture service, loading and unloading service, moving service discount program.
Inexpensive moving service: Cheap moving companies
Approximate price for an economic local move versus an ordinary move given by our cheap moving company, expressed in the table below:
ECONOMIC solution ⛪️

1-10 items

2 ½

Price  ̴

3 ½

Price  ̴

4 ½

Price  ̴

5 ½

Price  ̴

6 ½

Price  ̴

House

Price  ̴

No. of movers

👤1 + 🚚 = 50 – 70$/h

150$ et+

min180$

min210$

min240$

n/d

n/d

n/d

👥2 + 🚚= 80-95$/h

min200$

230$ et+

240$et+

320$ et+

420$ et+

560$et+

560$et+

👤👥3 + 🚚 = 105 – 115$/h

min260$

315$ + –

315$ +-

350$ et+

400$ et+

560$et+

560$et+

ORDINARY price ⛪️

1-15 items

2 ½

Price  ̴

3 ½

Price  ̴

4 ½

Price  ̴

5 ½

Price  ̴

6 ½

Price  ̴

House

Price  ̴

No. of movers

👥2 + 🚚= 85-95$/h

min240$

270$ et+

290$et+

450$ et+

540$ et+

640$et+

640$et+

👤👥3 + 🚚 = 115 – 135$/h

min290$

345$ + –

345$ + –

450$ et+

550$ et+

630$et+

640$et+
Long distance moving services from Montreal or to Montreal
Long-distance moving service offered by the company Moving Downtown which provides you with the cheap Montreal movers to any direction in Quebec, Ontario, New Brunswick or Nova Scotia. Best price and quality services for storage, home removals, residential and commercial moving from Montreal to Toronto, from Montreal to Kingston, London, from Montreal to Mississauga, Oshawa, Montreal to Kitchener, Gatineau, Magog, Quebec, Sherbrooke, Drummondville, Moving Montreal to Rimouski, Moving Montreal to Drummondville, Moving from Montreal to Saguenay, Gaspésie,  Moving from Montreal to Rimouski, Moving from Montreal to Chicoutimi,  Moving from Montreal to Ottawa, Moving from Montreal Rawdon, Montreal to Toronto Movers, Moving from Montreal to Val-d'Or, Moving from Montreal to Fredericton, Moncton, Moving from Montreal to Halifax, etc. We have the low rate among the moving companies in Montreal.

Seniors Discounts
        5 – 10 %

Students Discounts
      5 – 10 %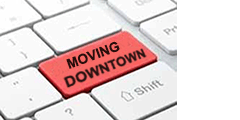 10% online estimation discount
Moving Long & Short Distance