Moving Sainte-Martine - Nr1 Movers to move House
Are you looking for service of moving Sainte-Martine? Moving Downtown can help you to move.
Sainte-Martine Moving Service
professional, fast and reliable moving from Sainte-Martine to Montreal
Choosing to Move?
Moving Sainte-Martine – Do you decide to move to Sainte-Martine in the near future? Now we have some tips for the movers in Sainte-Martine. Before choosing a mover, ensure these things first.
Check the legal status of the company that you want to book for moving.
Check the Registrar des Enterprises du Quebec if the company is listed or not.
Compare some of the moving quotes before going with one
Check the companies free moving estimates offer
Send their assessor to your home for estimating
Don't go for the moving agency that is too new in this business following the best moving season.
Pick a hassle-free service rather than going for cheap options available in the peak season of moving.
Welcome to the website of the company Moving Sainte-Martine that offers a quality local & long distance moving service on the South & North Shore of Montreal and across Canada
Why Moving to Sainte-Martine
It is located 34 km near Montréal city which is the most populous and city in the Quebec province. Sainte-Martine is near the main city and offers some serious advantages to live in. Living in Montréal is costly. Many people choose to reside near Montreal because they can save up money and enjoy beautiful scenarios.
Besides you can have the advantages of living by the waterside in Sainte-Martine. Most of the apartments and houses in your neighborhood and houses will provide a presentable view of the calm river. A serene and peaceful weather always exists near the river of the area Sainte-Martine. You can enjoy walking near the riverside or reading books sitting beside.
A lot of residents take advantage of fishing because this facility is just 5 minutes away from home. Solo adventures and various water sports are good options here available during the holidays. It will develop your health condition as the experts say that living near the water side improves better health. A calm atmosphere here is also good for concentration and exercise. Administrative support and job opportunities in Sainte-Martine are just what you need.
Best Moving Service To Sainte-Martine
Sainte-Martine is a municipality in the regional Beauharnois-Salaberry county municipality. It is the Monteregie region of Quebec in Canada. This municipality is in the large northern section of the small unattached southern area called Saint-Paul-de-Chateauguay. These two areas were merged in 1999 and are now known as Sainte-Martine Moving. Sainte-Martine area is 63.59 square km and the population is 5461 as 2016 census Canada.
Residential Moving – For residential moving we provide a skilled movers team which will allow you minimal effort. It will be a neat and clean service. Piano and snooker table transportation are done by the experts. We provide residential delivery with efficiency anywhere in Quebec.
Commercial Moving – We provide a happy relocation of your office. Our assessor will visit your office for giving a free estimation to ensure the smooth relocation of your office. We know a business relocation need more customized requirements and stings. So, we deliver you a full customized option to relocate your business or the surroundings.
Don't hesitate to call us for your moving to Sainte-Martine as our movers will happily assist you in all the way possible at a very competitive pricing. We will help you step by step to your happy moving in a stress-free way.
Moving prices varies with distance and amount of things. Local moving costs around $40 per hour without a truck. The cost with truck and movers will be around of $120-$150 per hour. A long distance which is counted over 50 km will cost around $600-$1500 for 11 hours of loading and unloading service. Per kilometer distance will cost around $3-$4. There are options available for extra hours of loading and unloading with more men which will cost you hourly basis.
The criteria that can affect the price moving Sainte-Martine and total cost of the move are as follows:
The date of the move;
The moving distance;
The volume of work and the number of movers;
The presence of an elevator and the floor.
We Handle it Better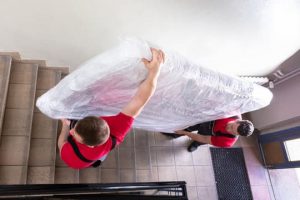 We are here for making your moving experience totally stress-free. A smooth and safe moving experience is waiting for you if you choose us. We take care in a homely way of all your household belongings. Except for choosing cheap materials for ensuring your belongings safety we use thickly padded blankets. That is why our wrapping is best for the safety of the goods.
Mattresses and the floor coverings of your house are taken well care of by us. We use new rubber plastic to cover up the upholstery and mattress. Hardwood floors of your home are also taken good care by us as we use specialized rubber carpets to protect them from scratches.
The clothes are important because the chances of damage are high in this case. Without good packaging your valuable clothes might damage badly. So, we provide cardboard wardrobe boxes with hangers for your clothes.
We Guarantee Zero Loss
If our movers accidentally cause damage to any household belongings, then we offer you a free repair or replacement. It is the best Zero Loss guarantee in the moving industry in Canada. We deeply care about moving things to your new place as the same way we pick them up. Of course we take necessary steps to avoid possible damage and well equipment. We also arrange the best training session for the movers and drivers.
Saftey Moving Sainte Martine
Ensuring moving safety with efficiency our company provides a disposal fleet and fully equipped moving trucks. They are well capable of accommodating large size moving from Montreal to home in Sainte-Martine. Our customers trust us for our long time experienced service in this field. We seek our customer's highest satisfaction that will feel to you a stress-free and smooth moving.
We Care For Environment
We care about the environment. We use recyclable moving materials and encourage our customers to do so. We recommend using plastic bins instead of cardboard boxes. We always pick the options that are eco-friendly and we go green. Packing and moving materials we use are recyclable and we help planting trees in new homes.
The furniture which our customers don't need, we donate them to charity organization to give them a second chance. In case, we also recycle the old furniture and home appliances following the eco-friendly manners. Although a moving process cannot be carbon-free in all the time so we try as much we can to minimize the use of it.
Discounts
get the move cheaper
Moving Sainte-Martine Long Distance