Moving Saint-Hubert - Pros Movers You Can Trust
Are you looking for service of moving Saint-Hubert? Moving Downtown can help you to move.
Saint-Hubert Moving Service
professional, fast and reliable moving in Saint-Hubert city
Welcome to the website of Moving Saint-Hubert company that provides a quality local & long distance moving service on the South & North Shore of Montreal and across Canada
Moving Saint-Hubert Company
Our company offers an excellent moving service from Saint-Hubert at the best rates! We have thousands of happy customers, why shouldn't you be one of them?
MOVING SAINT-HUBERT WHY USE A MOVING COMPANY?
Here it is, this day which excites you, but which you dread so much: the move. Here's how a moving company can help you get through your important day and overcome surprises of all kinds in Saint-Hubert.
MOVING COMPANY: FOR A JOB WELL DONE AND PEACE OF MIND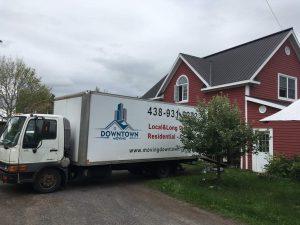 To hire movers in Saint-Hubert is first and foremost to opt for peace of mind knowing that your property will be in the hands of people who have made this job a career. Indeed, they know many tips and tricks, and above all, guarantee you satisfaction for move to Saint-Hubert.
Because a moving company like Moving Downtown is governed by various consumer protection laws, subject to transport and occupational safety standards, you have a job well done insurance and many remedies in case of need.
No more worrying about who should drive the truck, or finding one at an affordable price: a team of professionals' movers provide transportation and equipment. You then have the certainty that your goods will be taken care of and brought to the planned place, at the time that will be agreed. In addition, the good condition of a vehicle, the use of adapted tools and the experience of a seasoned driver are a sign that your belongings are in good hands.
DO I HAVE THE MEANS?
The Moving Downtown best moving company offer different services for move to Saint-Hubert that meet the needs and budgets of all kinds. Some customers will delegate the planning, packing, unpacking and positioning of items to the pros, while others prefer only to leave the loading and transportation to expert hands.
Depending on the services requested, the period, the distance and the goods to be moved, the price can vary considerably. The best approach is to get a detailed quote based on your situation. The advisers of Moving Downtown for move in Saint-Hubert are ready to guide your request and help you in your choice of package.
If entrusting your move to a moving company requires certain expenses to be paid, it does represent a significant saving of time and energy, two things which have no value and which are sometimes rare during such events.
Conversely, do we have the means to deprive ourselves of movers? Because some items or furniture require special handling, due to their size, their weight or the layout of the premises, it is better to entrust the work to a professional workforce of furniture move to avoid breakage and injury. Objects that sometimes have no value in our eyes are therefore taken care of by trained and responsible workers.
And because no one is immune to incidents, removal companies in principle have insurance that covers your property in the event of a problem. But rest assured, the employees have the experience of the trade and the adequate work tools, in addition to knowing the proper packaging and transport techniques that are essential.
For several decades now, the Moving Downtown team has been working in the metropolitan region of SAINT-HUBERT and the surrounding suburbs, supporting many families in their move. Whether the service you are looking for is warehousing moving, transport or packaging, your most valuable goods will be in good hands.
The start of a new phase with the need to change address and move all of your personal belongings can be stressful for anyone. Because it is a lifetime that travels through dozens of boxes, it is better to entrust the matter to the experienced professionals of Moving Downtown.
UNDERSTAND YOUR MOVING QUOTE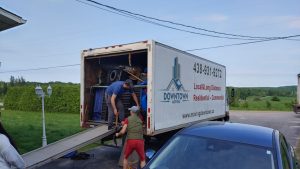 A change of scenery with a move is stimulating, but it cannot go like clockwork. The service obtained will make all the difference once the big day arrives. So you need to be well prepared and get started early. Because succeeding and not undergoing a move relies on your full understanding / acceptance of what is being offered to you. In short, you need to be in control before, during and after the commotion. And for that, it is important to demand, read and question what is called the moving estimate.
PREDICT, QUESTION AND RECORD
Once a few companies have been selected via the Internet, it is very relevant to contact the managers by phone and ask them specific questions. Their answers will allow you to make informed choices and that important clauses be included in your possible moving estimate for move in Saint-Hubert. Don't sign anything prematurely. Ask questions first. Examples:
Does your moving company have insurance (civil liability, breakage, theft, etc.)? And what are the amounts of coverage, the name of the insurer and the number of the insurance policy?
Can this amount of protection be increased based on my valuables?
Is it the replacement value rather than the depreciated value of my property that is part of your compensation in the event of a problem?
Do you have subsidiary companies? Is it you who are going to carry out my removal in Saint-Hubert?
Are your subcontractor and your contractual employees subject to quality standards and responsibilities regarding complaints in the event of a problem with packaging during Saint-Hubert move, loading, during transport?
Is it possible to email me a copy of any permits, certificates, licenses, etc., that you have? What team and what equipment will be at home when I move? What is their way of doing it?
ON THE WAY TO THE MOVING CONTRACT
Before signing the contract, the moving company you have targeted should ideally give you a brochure by mail or email. You will find formalized answers to your questions as well as information concerning your rights (and responsibilities) as a consumer, as well as his. The issue of the mover's liability for loss and damage should also be presented simply.
Another very important official document to receive fairly quickly after agreement: your moving quote. All costs of transport and services (standard and private) that you have requested must be clearly indicated. As well as all the contact details and certificates of the company. Remember that once signed by both parties, the quote takes the place of a contract. So demand that the details of the move be there:
The number of boxes to be transported;
The size and value of the assets (inventory);
The turnkey package or the hourly rate;
The number of "men";
The tools, apparatus, accessories and supplies used;
exclusions;
Post-move procedures, if applicable (complaints, etc.);
Where applicable, the place of storage of some or all of your goods;
The total amount to be paid, the terms of payment and additional costs;
Signatures (yours and that of the moving company representative);
Any other clause accepted by both parties.
Best moving company Moving Downtown responds to your needs, listens to your concerns and "follows the book" regarding moving quotes. With us, no unpleasant surprises.
Moving Price Saint-Hubert
The criteria that can affect the cost of the move are as follows:
The date of the move;
The moving distance;
The volume of work and the number of movers;
The presence of an elevator and the floor.
For more information about the moving price Saint-Hubert please contact us or use a quick quote.
Discounts
get the move cheaper
Movers Saint-Hubert 👇 Services
"I just moved in Saint-Hubert with this company. Great, very hard working guys! I appreciate the great job, I would definitely recommend their services!"
Moving Saint-Hubert Long Distance