Moving Hampstead, Montreal: Costs and Considerations
Why choose Moving Downtown for my moving Hampstead?
Welcome to the website of the company Moving Hampstead that offers a quality local & long distance moving service on the South & North Shore of Montreal and across Canada
Residential and Commercial Moving in Hampstead: Tips for a Smooth Relocation
Relocating can be a stressful and challenging experience, regardless of whether you are moving Hampstead to a new home or a new office. In Hampstead, moving can be particularly daunting, given the area's busy streets and tight spaces. To ensure a hassle-free move, it's crucial to work with a reliable and experienced moving company. In this article, we will provide you with some tips to make your residential or commercial moving experience in Hampstead a smooth one.
Plan ahead
The key to a successful move is to plan ahead. Create a timeline that details everything from booking a moving company to packing, loading, and unloading. This will help you stay organized and ensure that all aspects of the move are accounted for.
Hire a reliable moving company
One of the most important steps in the moving process is to hire a reputable and reliable moving company. Look for a company that has experience in both residential and commercial moves, is fully licensed and insured, and has a good reputation in the Hampstead area. You can read reviews and ask for references to help you make your decision.
Get a detailed estimate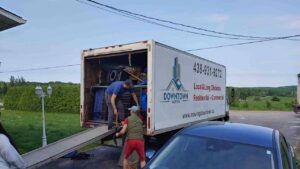 Before you hire a moving company, make sure to get a detailed estimate that outlines all costs involved. This will help you budget for the move and avoid any surprises or hidden fees. Ensure that the estimate includes any additional services you require, such as packing or storage.
Declutter
Before you start packing, it's a good idea to declutter and get rid of any items you no longer need. This will make the move more efficient and save you time and money. You can donate or sell items that are in good condition, and dispose of any items that are beyond repair.
Label your boxes
To make unpacking easier, label your boxes according to the contents and the room they belong to. This will help you identify which boxes need to be unpacked first and where they should be placed in your new home or office.
Prepare your new space
Before you move, make sure to prepare your new space for your arrival. This includes cleaning, painting, and making any necessary repairs. If you're moving to a commercial space, ensure that the layout and design are suitable for your business needs.
Stay organized
During the move, it's crucial to stay organized. Keep important documents, such as contracts and leases, in a separate folder, and carry them with you during the move. Make sure to communicate with your moving company regularly to ensure that everything is going according to plan.
Moving can be a stressful experience, but with the right planning and preparation, it can also be a positive and exciting time. By following these tips, you can ensure a smooth and hassle-free residential or commercial move in Hampstead.
Most Popular Moving Service Hampstead
What is the price of Moving Hampstead Mtl
Moving can be a stressful experience, especially if you're moving to a new city or town. One of the most important factors that you'll need to consider when moving is the cost. In this article, we'll take a look at the price of moving to Hampstead, Montreal.
Hampstead is a small, affluent town located in the heart of Montreal. It's known for its beautiful parks, well-maintained homes, and excellent schools. If you're considering a move to this charming town, here's what you can expect to pay.
Cost of Hiring a Moving Company
The cost of hiring a moving company will depend on a few factors, including the distance of your move, the size of your home, and the services you require. On average, you can expect to pay around $1,000-$2,000 for a local move within the Montreal area. If you're moving from a different province or country, the cost will be higher. Be sure to get quotes from at least three different moving companies to find the best price.
Packing and Unpacking Services
If you don't have the time or inclination to pack and unpack your belongings, you can hire a moving company to do it for you. This service will add to the overall cost of your move, but it can save you a lot of time and stress. On average, you can expect to pay around $500-$1,000 for packing and unpacking services.
Storage – If you need to store your belongings for a period of time before moving into your new home, you can rent a storage unit. The cost of a storage unit will depend on the size of the unit and the length of time you need it for. On average, you can expect to pay around $100-$300 per month for a storage unit.
Moving Insurance
When you move, it's important to make sure that your belongings are insured. Most moving companies offer basic insurance coverage, but you may want to purchase additional insurance for valuable items. The cost of insurance will depend on the value of your belongings.
Miscellaneous Costs
There are a number of other costs associated with moving that you'll need to keep in mind. These may include the cost of packing supplies, cleaning your old home, and disconnecting and reconnecting your utilities. On average, you can expect to pay around $500-$1,000 for these miscellaneous costs.
In conclusion, the cost of moving to Hampstead, Montreal will depend on a variety of factors. However, by budgeting for the above expenses, you can ensure that you're prepared for the costs associated with your move. Be sure to shop around for the best prices and don't forget to factor in any unexpected expenses that may arise.
Hampstead Moving Service Across Canada