Moving Saint-Jean-sur-Richelieu - Pros Movers Nr1
Are you looking for service of moving Saint-Jean-sur-Richelieu? Moving Downtown can help you to move.
Saint-Jean-sur-Richelieu Moving Service
Welcome to the website of the company Moving Saint-Jean-sur-Richelieu that offers a quality local & long distance moving service on the South & North Shore of Montreal and across Canada
Moving Saint-Jean-sur-Richelieu Company
Our company offers an excellent moving service from Saint-Jean-sur-Richelieu at the best rates! We have thousands of happy customers, why shouldn't you be one of them?
MOVING to SAINT-JEAN-SUR-RICHELIEU
To succeed in your project, you must choose Moving Downtown professional for moving to Saint-Jean-sur-Richelieu. A mover should be more than simply a worker who loads and unloads your possessions; he should be a well-trained and qualified specialist.
Moving Downtown is a dependable moving company in Saint-Jean-sur-Richelieu that offers total transportation, handling, and expert moving services.
Our movers in Saint-Jean-sur-Richelieu use all of their years of experience to ensure that your residential or commercial relocation is a complete success.
Commercial Moving Service in Saint-Jean-sur-Richelieu
Our company provides turnkey local and long-distance relocation services as a commercial mover in Saint-Jean-sur-Richelieu. Retailers, manufacturers, corporate headquarters, and eateries all benefit from our expertise. From a precise estimate to efficient project management, we know how to move any type of workplace.
Our experienced movers will carry any heavy equipment from Montreal to Saint-Jean-sur-Richelieu or to any city in Quebec, Ontario, Nova Scotia, New Brunswick, or Manitoba.
Residential Moving Service in Saint-Jean-sur-Richelieu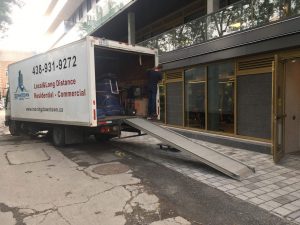 In Saint-Jean-sur-Richelieu, Moving Downtown best moving company in Canada provides genuine household moving services. Due to our high quality service and lowest moving price, our offerings are frequently unrivalled.
Are you looking for a last-minute or quick transfer to Saint-Jean-sur-Richelieu? Our professional movers are known for their quickness and efficiency, so you can expect your delivery or small relocation within a few hours of calling us. They are express movers who will never sacrifice quality or professionalism when relocating your flat in Saint-Jean-sur-Richelieu, even if they are working at a fast pace.
Please notice that we only use clean coverings that are replaced on a regular basis. Our trucks are well-kept, cleaned daily, and disinfected on a regular basis. Furthermore, in order to safeguard you, dear clients, we never engage in unethical behavior.
We move any piano or pool table for you!
Our piano moving services in Saint-Jean-sur-Richelieu are provided by qualified professionals that have the necessary expertise and skills to safely transport your piano. Our pool table installers and movers provide the same level of service. This is a complete pool table moving service in Saint-Jean-sur-Richelieu, performed by highly skilled professionals that pay close attention to the smallest aspects when transporting your pool table.
WHY CHOOSE A MOVING SERVICE WITH COMPLETE PACKAGING?
Moving is always synonymous with stress, but there are many solutions available to make it easier. Among the most interesting options, the packaging of your goods – from the most bulky to the most fragile – is undoubtedly an added value. For lack of time, help or material, entrusting this task to professionals is all the more advantageous as it is often offered to you at a more than reasonable price, or even included in a package.
So, why choose a moving company Saint-Jean-sur-Richelieu with full packaging? The answer is peace of mind and peace of mind!
PACKING SERVICE FOR A MOVE: HOW DOES IT WORK?
Nothing could be simpler than a packaging service. First, you can of course ask for an estimate, and include it in your moving budget. At this stage, fragile items are placed on a list. Like a reference, it makes it possible to plan the most suitable material to transport them.
A day before, the movers come to pack your things quickly and conscientiously. Your only duty will be to sort your belongings, if they will not all be part of the trip. You are the best person to indicate what should be packed and what should be left out.
Don't be surprised if the procedure is finally scheduled for the same day: it just means that your packing volume is small, and that it can be processed just before being loaded into the truck, without any loss of time. The day before this big change, you will have time to relax.
PACKING THE DISHES: AN ART IN MOVING
Do you think you are never better served than by yourself? However, you would be surprised by the delicacy and care shown by the professionals. Yes, the kitchen is the pet peeve of any move: it includes this famous crockery that we want to protect at all costs! But your worries could also point to your mirrors or your artwork.
The packaging is a real know-how that goes beyond the linens used to fill the void in a cardboard box! Packing techniques for a move often meet industry standards, which explains, among other things, the variety of materials available for the protection of your goods (cardboard boxes, envelopes, bubble wrap, canvas, etc.).
In the legal chapter, did you know that objects packed by professionals are covered? On the other hand, those you want to take care of are under your responsibility. Convenience and peace of mind: that's the guarantee you can expect.
For many years, these criteria have been the watchwords of the best moving services provider Moving Saint-Jean-sur-Richelieu Downtown teams to offer unparalleled service to their customers. But their dedication doesn't stop there. Protecting what needs to be transported is good, but taking care not to damage floors, walls and stair handrails is what makes the difference between a correct service and an exceptional commitment.
After transport, you can still count on them for unpacking and assembling the furniture. For these specialists, the service is not complete until you are rid of everything that reminds you that you have just moved.
Insurance is Your
Guarantee
The Downtown Moving Saint-Jean-sur-Richelieu team takes all the necessary measures to avoid damaging things of your departure home as well as your new home, by using:
Protective mats for boards;
Clean covers to protect furniture;
Covers for mattresses and sofas.
You can also use our packing service to make sure your goods are fully protected for transport.
The insurance certificate is given during your move which will protect the goods throughout the transport. The insurance covers:
2 million civil liability
1 million for freighters
With Moving Saint-Jean-sur-Richelieu your move will be stress-free.
Moving Price Saint-Jean-sur-Richelieu
The criteria that can affect the cost of the move are as follows:
The date of the move;
The moving distance;
The volume of work and the number of movers;
The presence of an elevator and the floor.
For more information about the moving price Saint-Jean-sur-Richelieu please contact us or use a quick quote.
Discounts
get the move cheaper
Movers Saint-Jean-sur-Richelieu 👇
"I just moved Saint-Jean-sur-Richelieu with this company. Great, very hard working guys! I appreciate the great job, I would definitely recommend their services!"
Moving Saint-Jean-sur-Richelieu Long Distance
Real movers in Saint-Jean-sur-Richelieu, able to help you move your personal belongings safely. By filling out the online quote form, you can benefit from a 10% discount on the total cost of the move.