Moving Oka - Pros Movers You can Trust
Are you looking for service of moving Oka? Moving Downtown can help you to move.
professional, fast and reliable moving from Oka to Montreal
Welcome to the website of the company Moving Oka that offers a quality local & long distance moving service on the South & North Shore of Montreal and across Canada
Why Hire Downtown Moving Oka?
Below we've mentioned services that Downtown Moving Oka is offering in Laurentides:
Residential Moving
Residential moving Oka is one of the most common services that people use. Residential moving services Oka are ideal when you're moving to a new house and flat and want to shift all furniture and belongings to your new home.
The Downtown Moving offers three packages in the residential movings category:
Packing (fragile packing as well)
Loading and Unloading
Disassembly and assembly
Commercial Moving Oka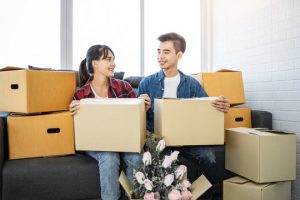 Commercial moving Oka is dedicated to those who want to shift their office, restaurant, factory, or store from one place to another. Commercial moving is quite different from residential moving. Downtown Moving Oka has a dedicated team for commercial moving agreements and will safely deliver your business goods from the old building to the new one.
While other moving Oka companies only offer one team for all commercial and residential needs, Downtown Moving doesn't work like that. They got dedicated packaging, pickups, and movers to handle commercial moving Oka.
Insurance
Downtown Moving Oka offers a full 100% insurance of your belongings. In case if your belongings and furniture get damaged during the transportation, loading, and unloading by the DW, the company will pay you for the compensation or buy you a similar new product. So you don't have to worry about the loss, damage, or breakdown of any of your belongings during the transportation!
Multiple Services
Downtown Moving Oka does not just offer the transportation of your goods but also provides other services that can save your shifting time, efforts and may cost lower than doing it on your own. Some of them are:
Dedicated fragile transport
Packaging
Packing
Large scale furniture such as boilers, plotters, etc.
Assembling
Dedicated fragile transport
Warehouse storage
Storage Services
Downtown Moving has recently launched its warehouse services. In some cases, you might need a place to store all your furniture and building's goods. For example, you urgently need to leave the site, but you haven't purchased the new building. In that case, the storage services of Downtown Moving Oka will be best for you.
The storage service allows you to store all your furniture, fragile goods, and other home, store, or office belongings in a safe and secure warehouse. The warehouse is big enough to store all your building's furniture and goods securely without overstocking anything at a very affordable cost.
Discounts
Downtown Moving offers plenty of discounts as well. While other moving Oka companies focus on money, Downtown Moving focuses on building customer relationships. That's why they offer exclusive discounts to their first customers.
Currently, Downtown Moving is offering three exclusive limited time discount deals:
Student package: 5% minimum and 10% maximum. The exact discount rate depends on the cost of the service and the distance traveled.
Senior citizen discount: 5% minimum and 10% maximum. This discount is valid for citizens who're over 40+. The exact discount rate depends on the cost of the service and the distance traveled.
10% fixed online discount. This discount is applicable only if you book the service from the official website of Downtown Moving. You can also contact them from the phone number on their website and refer to the website to get the 10% online discount.
Pricing
Here comes the most crucial section of this review: pricing. The pricing section is the best feature of Downtown Moving Oka. The company offers the most affordable and value for money moving services in Oka. We can't tell you the exact rates of how much the company will charge you, but we can give you the average pricing (according to the website itself):
However, note that the actual pricing is dependent on the three factors:
The date on which you're shifting. There might be a peak factor in seasons such as during the Christmas season, summer holidays, etc.
Of course, the price will go higher as you increase the number of movers since they have to pay their movers for working your shift.
The distance. Since the driver of the mover is spending their time driving the truck loaded with your belongings, so of course, they'll charge more money if the distance is long. More distance = more time required to finish the job. Moreover, the fuel cost is also the factor that will increase the cost as the distance of your shifting increases.
Oka Moving Service Across Canada