Moving from Montreal to Rouyn-Noranda - Movers Nr1
Are you looking for moving from Montreal to Rouyn-Noranda? Moving Downtown can help you move.
Moving to Rouyn-Noranda from Montreal
Welcome to the website of Moving Downtown company, which offers a quality long distance moving Montreal-Rouyn-Noranda and to all regions of Canada, mainly in Ontario, New Brunswick, Nova Scotia and Quebec
Moving Montreal-Rouyn-Noranda Company
Our company offers an excellent moving service from Rouyn-Noranda at the best rates! We have thousands of happy customers, why shouldn't you be one of them?
Our job is to move you.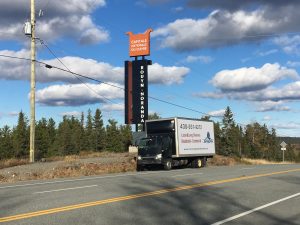 Professionals with long experience in moving, we are passionate about our profession. We have listened to our customers, shared their concerns, and … we have become much more than providers. Today we are the partner who assesses, figures, and manages the smallest detail of the move; with all that, this implies rigor, quality, resources, creativity, and flexibility.
Our services for your future move
Moving is often the goal or the culmination of a great project. It is also a necessary step, sometimes a factor of worry and risk. Moving Downtown accompanies you during this period and offers you many services.
Moving for individuals
A move is particularly taxing when everything needs to be ready on the day of loading.
This is why Moving Downtown offers you its moving services to help you prepare your boxes and transport your personal effects to their destination.
Montreal and Rouyn-Noranda, our team of moving professionals, will support you so that your installation takes place in the best conditions.
Why call on moving professionals?
A move from Montreal to Rouyn-Noranda is being prepared. It takes at least two weeks to plan, organize and implement everything. Sort the objects and categorize them, then put them in the same box. Pay attention to the most fragile and ensure that nothing is left out. These are all preparations that await you.
All this, without forgetting to choose the right vehicle for the transport of your personal effects.
Our team of professional movers is used to dealing with all situations of this kind. We can help you choose the best packaging for your clothes, breakable and fragile items, not to mention your furniture. Disassemble the furniture, protect it from breakage, and place it correctly in the container: we take care of it.
The advantages of Moving Downtown are:
Benefit from the experience and expertise of a team specializing in moving for individuals.
Find a service price that meets your expectations and matches your budget.
Save time by avoiding long days of preparations.
It is reducing the administrative procedures that are inseparable from a move.
How to properly organize the move?
You should know that a move takes place in several stages:
The preparatory phases.
Loading packages into the truck.
Unloading and post-shipment monitoring.
In addition, be aware that moving involves taking out insurance. Other administrative procedures also go hand in hand with the change of address. All these steps take time, hence the interest in entrusting your project to Moving Downtown.
The stages of preparing the move for an individual
Preparing for D-Day consists in particular of packing the objects and placing them in a box. To do this, you must choose the type of packaging suitable for each item.
For example, bubble wrap is helpful for anything fragile in order to absorb shocks. The clothes are packaged other than with bubble wrap. The ideal is to find them very smooth at the start and the finish.
And our professional movers can help you find the best conditioning tools.
Loading the packages into the transport vehicle
Here again, to avoid the many round trips, our team knows precisely how to arrange the packages to optimize space.
In addition, we use a specific moving methodology to avoid any breakage during the delivery of your personal effects.
Unloading and follow-up after the move
Unloading must be done with care. The movers take particular care to label your packages to facilitate the delivery of each box to the room where the items are ultimately stored.
The assembly and disassembly of furniture too: entrust them to specialists at Moving Downtown.
Who to contact for the organization of a private move?
Your moving project is ours. We make sure every detail of the process goes smoothly.
Moving Downtown has the necessary expertise to actively participate in your change of address in Montreal and Rouyn-Noranda. For this, a single interlocutor takes care of your file throughout the procedure. He remains by your side from departure to arrival to ensure that your expectations are met down to the smallest detail.
Also, note that our moving services for Montreal and Rouyn-Noranda are personalized according to your needs. We can offer you different types of vehicles for move Montreal to Rouyn-Noranda depending on the volume and weight of your personal effects.
Together, we define the number of round trips necessary to transport everything. We keep these comings and goings as low as possible to save you money and energy.
In addition, we take care of all the administrative formalities to relieve you of a specific burden.
Protecting your property as a priority
Moving Downtown ensures that all your personal effects are delivered to the address you provide in Rouyn-Noranda or any city in Canada. Throughout the cycle, we guarantee the protection of your goods to satisfy you.
An object, a packaging
Our moving experts know precisely what type of packaging to use for each type of object. Thus, your belongings remain intact throughout the journey.
Total support
In addition to helping you with the move, here are our additional services:
Proposal of a vehicle adapted to your needs.
Preparation of the furniture to be transported: dismantling on departure, assembly, and installation on arrival.
Etc.
Request for quotation of the move
As mentioned earlier, we offer tailor-made moving services. Do not hesitate to contact us to request a quote for your move anywhere in Canada. Moving Downtown helps you make this new start a great adventure from day one.
This is also the reason why the same interlocutor takes care of your file from A to Z. In this regard. We offer various removal formulas for individuals to find the best solution for each case:
Personalized quote based on your needs and your budget.
In-depth monitoring of the progress of the move on a practical and administrative level.
Additional services for the assurance of delivery in the rules of the art.
We remain at your entire disposal from our first contact. The Moving Downtown team is present in Montreal and Rouyn-Noranda to help you make your project a reality.
Cargo insurance is your
Guarantee
Because we want your peace of mind above all, we also prepare all the essential files to ensure the transport of your personal effects.The Downtown Moving Montreal-Rouyn-Noranda team takes all the necessary measures to avoid damaging things of your departure home as well as your new home, by using:
Protective mats for boards;
Clean covers to protect furniture;
Covers for mattresses and sofas.
You can also use our packing service to make sure your goods are fully protected for transport.
The insurance certificate is given during your move which will protect the goods throughout the transport. The insurance covers:
2 million civil liability
1 million for freighters
Moving Price Montreal-Rouyn-Noranda
The criteria that can affect the cost of the move are as follows:
The date of the move;
The moving distance;
The volume of work and the number of movers;
The presence of an elevator and the floor.
For more information about the moving price from Montreal to Rouyn-Noranda please contact us or use a quick quote.
Montreal to Rouyn-Noranda Moving Area
Discounts
get the move cheaper
"I just moved from Montreal to Rouyn-Noranda with this company. Great, very hard working guys! I appreciate the great job, I would definitely recommend their services!"
Long Distance Moving Service Montreal-Rouyn-Noranda
Are you looking for a reliable moving company to move from Rouyn-Noranda to Montreal or move Rouyn-Noranda? Are you planning to move Rouyn-Noranda? Need to move to Montreal from Rouyn-Noranda after buying a house or apartment or getting a new job? Moving Downtown is your moving company of choice in Ontario and Quebec that helps you to move Rouyn-Noranda. Our company has movers who can offer you a move: to or from Rouyn-Noranda at the best price. Cheap moving from Montreal to Ontario cities:
| | | |
| --- | --- | --- |
| Moving Baie-d'Urfe to Rouyn-Noranda | Moving from Beaconsfield to Rouyn-Noranda | Moving from Beauharnois to Rouyn-Noranda |
| Moving from Becancour to Rouyn-Noranda | Moving from Bedford to Rouyn-Noranda | Moving from Beloeil to Rouyn-Noranda |
| Moving from Bois des Filion to Rouyn-Noranda | Moving from Berthierville to Rouyn-Noranda | Moving from Blainville to Rouyn-Noranda |
| Moving from Boisbriand to Rouyn-Noranda | Moving from Boucherville to Rouyn-Noranda | Moving Bromont to Rouyn-Noranda |
| Moving Brossard to Rouyn-Noranda | Moving Brownsburg-Chatham – Rouyn-Noranda | Moving from Candiac to Rouyn-Noranda |
| Moving from Carignan to Rouyn-Noranda | Moving from Cap-Chat to Rouyn-Noranda | Moving from Chambly to Rouyn-Noranda |
| Moving from Charlemagne to Rouyn-Noranda | Moving from Châteauguay to Rouyn-Noranda | Moving from Contrecoeur Rouyn-Noranda |
| Moving from Cowansville to Rouyn-Noranda | Moving from Danville to Rouyn-Noranda | Moving from Coteau-du-Lac to Rouyn-Noranda |
| Moving DDO Dollard-des-Ormeaux to Rouyn-Noranda | Moving from Donnacona to Rouyn-Noranda | Moving from Dorval to Rouyn-Noranda |
| Moving from Delson to Rouyn-Noranda | Moving from Drummondville to Rouyn-Noranda | Moving from Dunham to Rouyn-Noranda |
| Moving from East Angus to Rouyn-Noranda | Moving from Esterel to Rouyn-Noranda | Moving from Farnham to Rouyn-Noranda |
| Moving from Fermont to Rouyn-Noranda | Moving from Forestville to Rouyn-Noranda | Moving from Deux-Montagnes to Rouyn-Noranda |
| Moving from Gaspe to Rouyn-Noranda | Moving from Gatineau to Rouyn-Noranda | Moving from Granby to Rouyn-Noranda |
| Moving from Grande-Rivière to Rouyn-Noranda | Moving from Hudson to Rouyn-Noranda | Moving from Huntingdon to Rouyn-Noranda |
| Moving from Ile-Perrot to Rouyn-Noranda | Moving from Joliette to Rouyn-Noranda | Moving from Kirkland to Rouyn-Noranda |
| Moving from Ancienne-Lorette to Rouyn-Noranda | Moving from Assomption to Rouyn-Noranda | Moving from Épiphanie to Rouyn-Noranda |
| Moving from La Malbaie to Rouyn-Noranda | Moving from La Pocatière to Rouyn-Noranda | Moving from à La Prairie to Rouyn-Noranda |
| Moving from La Sarre to Rouyn-Noranda | Moving from La Tuque to Rouyn-Noranda | Moving Laval to Rouyn-Noranda |
| Moving from Lachute to Rouyn-Noranda | Moving from Lavaltrie to Rouyn-Noranda | Moving from Lery to Rouyn-Noranda |
| Moving from Levis to Rouyn-Noranda | Moving from Lorraine to Rouyn-Noranda | Moving from Louiseville to Rouyn-Noranda |
| Moving from Maniwaki to Rouyn-Noranda | Moving from Marieville to Rouyn-Noranda | Moving from Mascouche to Rouyn-Noranda |
| Moving from Matane to Rouyn-Noranda | Moving Mercier to Rouyn-Noranda | Moving from Matagami to Rouyn-Noranda |
| Moving from Metis-sur-Mer to Rouyn-Noranda | Moving from Mirabel – Rouyn-Noranda | Moving from Magog to Rouyn-Noranda |
| Moving from Mont-Laurier to Rouyn-Noranda | Moving from Mont-saint-Hilaire to Rouyn-Noranda | Moving from Mont-Joli to Rouyn-Noranda |
| Moving Rouyn-Noranda-Montreal | Moving from Montmagny to Rouyn-Noranda | Moving from Mont-Tremblant to Rouyn-Noranda |
| Moving from Nicolet to Rouyn-Noranda | Moving from Neuville to Rouyn-Noranda | Moving Notre-Dame-de-Île-Perrot to Rouyn-Noranda |
| Moving from Notre-Dame-des-Prairies to Rouyn-Noranda | Moving Rouyn-Noranda- Montreal | Moving from Notre-Dame-du-Lac to Rouyn-Noranda |
| Moving from Plessisville to Rouyn-Noranda | Moving Pincourt to Rouyn-Noranda | Moving from Pont-Rouge to Rouyn-Noranda |
| Moving from Port-Cartier to Rouyn-Noranda | Moving from Portneuf to Rouyn-Noranda | Moving from Princeville to Rouyn-Noranda |
| Moving from Prevost to Rouyn-Noranda | Moving from Quebec to Rouyn-Noranda | Moving from Repentigny to Rouyn-Noranda |
| Moving from Lac-Megantic to Rouyn-Noranda | Moving Rouyn-Noranda- Montreal | Moving from Otterburn Park to Rouyn-Noranda |
| Moving Richelieu – Rouyn-Noranda | Moving from Richmond to Rouyn-Noranda | Moving from Rimouski to Rouyn-Noranda |
| Moving from Rivière-du-Loup to Rouyn-Noranda | Moving from Roberval to Rouyn-Noranda | Moving from Rosemère to Rouyn-Noranda |
| Moving from Rouyn-Noranda to Rouyn-Noranda | Moving from Saguenay to Rouyn-Noranda | Moving from Sainte-Adèle to Rouyn-Noranda |
| Moving from Sainte-Anne-de-Bellevue to Rouyn-Noranda | Moving from Sainte-Anne-des-Monts to Rouyn-Noranda | Moving from Sainte-Anne-des-Plaines to Rouyn-Noranda |
| Moving from Saint-Augustin-de-Desmaures to Rouyn-Noranda | Moving from Saint-Basile to Rouyn-Noranda | Moving Saint-Basile-Le-Grand to Rouyn-Noranda |
| Moving Saint-Bruno-de-Montarville to Rouyn-Noranda | Moving Sainte-Catherine to Rouyn-Noranda | Moving from Sainte-Agathe-des-Monts to Rouyn-Noranda |
| Moving from Saint-Felicien to Rouyn-Noranda | Moving from Saint-Gabriel to Rouyn-Noranda | Moving from Saint-Georges to Rouyn-Noranda |
| Moving Saint-Hyacinthe from Rouyn-Noranda | Moving from Saint-Jean-sur-Richelieu to Rouyn-Noranda | Moving from Saint-Jerôme to Rouyn-Noranda |
| Moving Saint-Eustache to Rouyn-Noranda | Moving from Saint-Joseph-de-Beauce to Rouyn-Noranda | Moving from Sainte-Julie to Rouyn-Noranda |
| Moving Saint-Lambert to Rouyn-Noranda | Moving from Saint-Lazare to Rouyn-Noranda | Moving from Saint-Lin-Laurentides to Rouyn-Noranda |
| Moving from Sainte-Marthe-sur-le-Lac to Rouyn-Noranda | Moving from Saint-Ours – Rouyn-Noranda | Moving Saint-Constant to Rouyn-Noranda |
| Moving from Saint-Raymond to Rouyn-Noranda | Moving from Saint-Remi to Rouyn-Noranda | Moving to Saint-Sauveur from Rouyn-Noranda |
| Moving Sainte-Therèse to Rouyn-Noranda | Moving from Saint-Tite to Rouyn-Noranda | Moving from Salaberry-de-Valleyfield to Rouyn-Noranda |
| Moving from Saint-Pie to Rouyn-Noranda | Moving from Saint-Pascal to Rouyn-Noranda | Moving from Scotstown to Rouyn-Noranda |
| Moving from Sherbrooke to Rouyn-Noranda | Moving from Sorel-Tracy to Rouyn-Noranda | Moving from Stanstead to Rouyn-Noranda |
| Moving from Sutton to Rouyn-Noranda | Moving from Shawinigan to Rouyn-Noranda | Moving from Terrebonne to Rouyn-Noranda |
| Moving from Thetford Mines to Rouyn-Noranda | Moving from Thurso to Rouyn-Noranda | Moving from Trois-Pistoles to Rouyn-Noranda |
| Moving from Trois-Rivières to Rouyn-Noranda | Moving from Val-d'Or to Rouyn-Noranda | Moving from Victoriaville to Rouyn-Noranda |
| Moving from Valcourt to Rouyn-Noranda | Moving from Varennes to Rouyn-Noranda | Moving from Vaudreuil-Dorion to Rouyn-Noranda |
| Moving from Waterloo to Rouyn-Noranda | Moving from Waterville to Rouyn-Noranda | Moving from Windsor to Rouyn-Noranda |