FURNITURE DELIVERY - CRITERIA TO FOLLOW TO TRANSPORT YOUR FURNITURE BY YOURSELF
The furniture delivery and transport is sometimes a headache for individuals who move or want to transport furniture purchased or sold recently, online, or in stores. When you want to transport your furniture in Canada, one of the first reflexes is to do it yourself. However, certain rules must be followed to avoid injuring yourself on the one hand and successfully transport in the best possible conditions.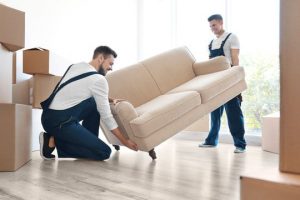 However, this will not prevent you from dismantling, reassembling, loading, and unloading your goods. Depending on your budget, ability to perform these tasks, and availability, it may be worthwhile to hire a professional equipped with a moving truck, especially if it offers the best moving price.
Two important criteria are to be monitored, namely the distance to be covered and your furniture volume. If your furniture turns out to be too bulky for your vehicle, you will have to hire a utility. Likewise, if transport requires you to go to any city in Canada, moving your furniture can quickly get expensive.
Using a specialized transporter brings you immediate benefits. Indeed, Moving Downtown professionals have experience in transporting small and large furniture. They offer you turnkey solutions so that you can move your table, bed, or wardrobe as you wish.
Finally, the last criterion to take into account is the importance of the furniture to be transported. If this turns out to be important, perhaps it is better to dismantle all or part of your furniture. It is a relevant solution to optimize space in the utility and the future storage space.
CHOOSE MOVING DOWNTOWN TO HAVE YOUR FURNITURE DELIVERED
Of course, the easiest and most reassuring alternative for you is to entrust your furniture to an expert who will be responsive to meet your needs.
For moving in Canada, we invite you to discover our service and compare our services.
You can also calculate a provisional cost to have all the cards in your hands when deciding to move to Canada.
Our team responds quickly and with kindness to all your requests.
EXAMPLES OF FURNITURE TO BE TRANSPORTED
For a table
It is generally relatively bulky furniture and bulky in shape. We recommend that you disassemble the legs as a minimum and wrap them in a blanket or bubble wrap. Then protect the corners as well as the tabletop.
For a bed
The bulkiest in transporting this type of furniture is the mattress. It must then be moved apart from the box spring, and if possible, vertically and well wedged between other pieces of furniture. Do not roll or fold it especially; you will break the fibers that make it up. If your bed base is slatted, undo them, store them in a cardboard box, or protect them with bubble wrap.
For a china cabinet
Empty it and pack as many things as possible. For the external elements, it is necessary to disassemble them as much as possible to relieve the weight during transport. It is the same for a cabinet.
HAVE YOUR FURNITURE DELIVERED ANYWHERE IN CANADA
Moving Downtown can transport your furniture in Canada. Our commitments to Transporter are secure payment, delivery in Canada, deliverers by truck for certain destinations, a traceability service with the possibility of tracking the status of your order online, and of course, safe transport for your furniture.
Make your quote online by entering your furniture's dimensions and weight and directly obtain the total amount of your order before validating it. Have your furniture transported with confidence with Transporter my furniture and take advantage of the furniture delivery service at home.
MOVING, TRANSFER: THE ONLINE SOLUTION TO MOVE YOUR FURNITURE IN CANADA
For furniture moving in Canada, visit the Moving Downtown website, fill in the departure and arrival addresses before selecting the type of furniture you wish to move (cabinets, beds, mirrors, display cases, shelves, sideboard, bar, library, etc.) for your living room, bedroom, kitchen or even outdoor furniture such as garden furniture.
IMPORTANT POINT FOR FURNITURE MOVING
Removal of glass or mirrored parts
If your living room or library has glass shelves or glass or mirror doors, our movers will only dismantle these elements, remove the drawers, lock the doors and transport the wooden cabinet. If you have a two-body sideboard, our team will separate the upper part from the lower part. The transport will only be facilitated.
Before our team's arrival, we invite you to empty your furniture of your personal belongings (dishes, clothes, books, various objects) to facilitate its transport.
Special cases
The furniture is composed mainly of melamine wood; Canada's furniture is not designed to be used many times. More precisely, the structure takes play just like the screws and other fixing points. The same goes for furniture that is too old, made to measure or too technical , our movers avoid disassembling them in anticipation of incorrect reassembly or various anomalies.
Insurance is Your Guarantee
The Moving Downtown Montreal team takes all the necessary measures to avoid damaging the areas of your departure home as well as your new home, by using:
Protective mats for boards;
Clean covers to protect furniture;
Covers for mattresses and sofas.
You can also use our packing service to make sure your goods are fully protected for transport.
The insurance certificate is given during your move which will protect the goods throughout the transport. The insurance covers:
2 million civil liability
1 million for freighters
With Us, your move will be stress-free.
 Contact us for more information
Discounts
get the move cheaper